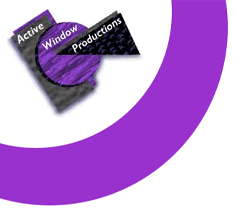 Hey, read this stuff!
It could save you from asking lots of questions!
The partners of Active Window Productions combine years of experience in programming, graphic design, and multimedia production to bring you solutions ranging from the simple informational page (the standard "homepage") to electronic storefronts and information services with a broad range of interactivity. Our specialty is backend programming for web sites.
We offer site hosting with a high speed Unix server through dual redundant T3 net links, making every effort to ensure that your information is accessible at all times.
Active Window Productions, Inc.
P. O. Box 400142
Cambridge, MA 02140
(617) 497-0088
info@actwin.com